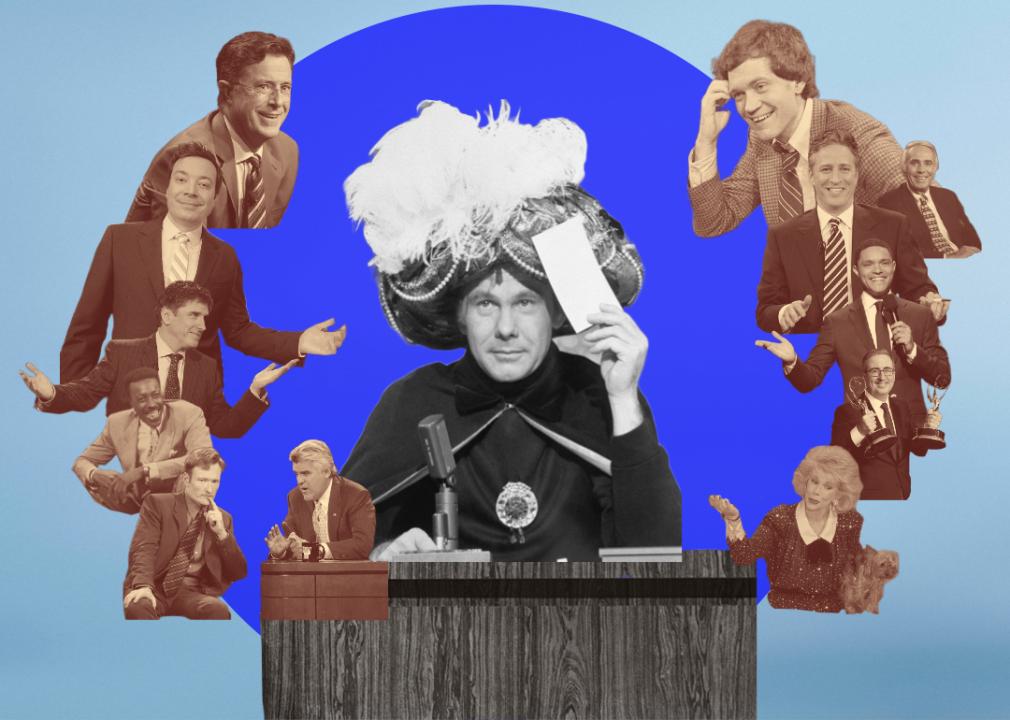 Photo Illustration by Stacker // Getty Images
Alongside the nightly newscast and the morning show, the late-night talk show is one of the pillars of American broadcasting. You've seen these shows and know the formula: a host steps out to an audience, gives a joke-filled monologue about the day's events, does a sketch or two, banters with the house band, and interviews notable people. As standard as the format is now, it took years and several iterations to reach it—and it continues to evolve.
Late-night television as we know it now follows the format that Johnny Carson, host of "The Tonight Show" from 1962 to 1992, refined and perfected. Upon leaving television, networks tried to fill in the gap, with new competitors emerging across broadcast and cable networks. What resulted were fierce rating and publicity battles, and personal and professional strife between hosts like David Letterman and Jay Leno.
In the age of YouTube and streaming services, modern-day late-night talk shows are competing over online views instead of Nielsen ratings. The content these shows provide now is markedly different than before, adapting to new mediums—current late-night fare ranges from fun viral videos to political deep dives. Regardless of the changes and evolution of late-night television, however, one can still see the lineage from where the genre began and where it is now.
Stacker chronicled that lineage, looking at 25 different points in time from the past seven decades of late-night television. Read on to see where your favorite late-night hosts fit into this fascinating history and the legacies they left behind.
The beginnings of late-night programming
Steve Oroz/Michael Ochs Archives // Getty Images
Mainstream late-night television shows began in earnest in the 1950s, primarily inspired by variety shows like "The Ed Sullivan Show" which showcased musicians, comedians, and other performers. "Broadway Open House" on NBC is the first variety series to air in a late-night slot (at 11 p.m.) as opposed to a prime-time slot (from 7 p.m. to 11 p.m.) in 1950. While the show was unsuccessful, it was the first step to a more iconic property from the network.
'The Tonight Show' begins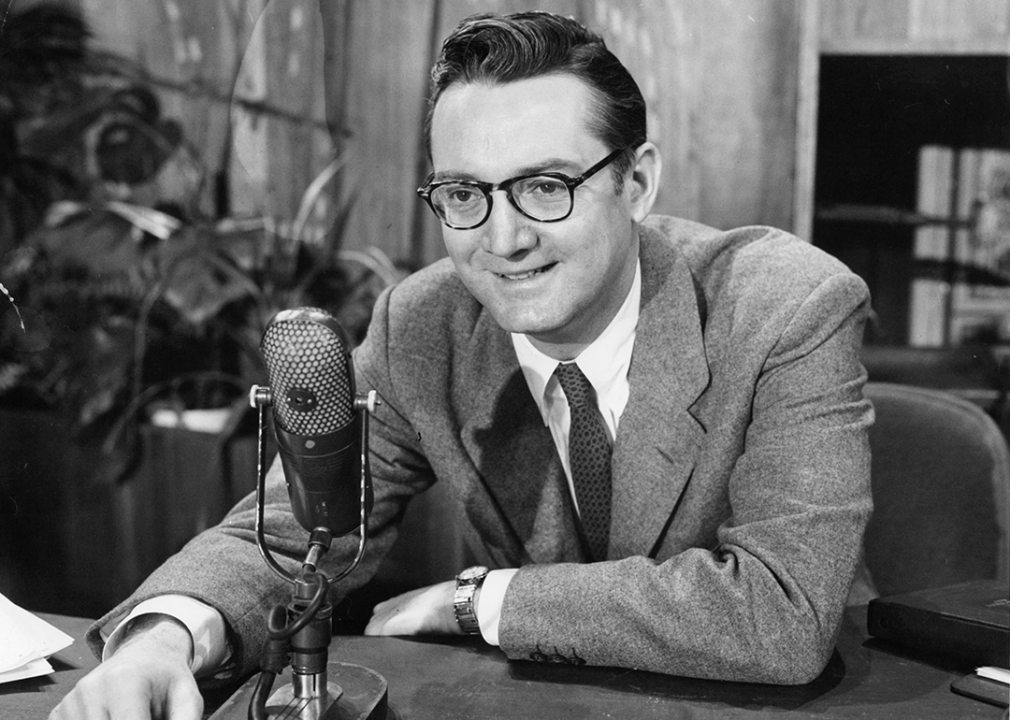 CBS // Getty Images
Initially beginning as a local New York program, the "Steve Allen Show" starring the eponymous television presenter became "Tonight" in 1954, airing nationwide on NBC every weeknight. Elements that endured long after this first iteration of "The Tonight Show" included a comedic monologue, the use of a house band, man-on-the-street interviews, audience participation, guest interviews, and sketches.
Jack Paar takes over 'The Tonight Show'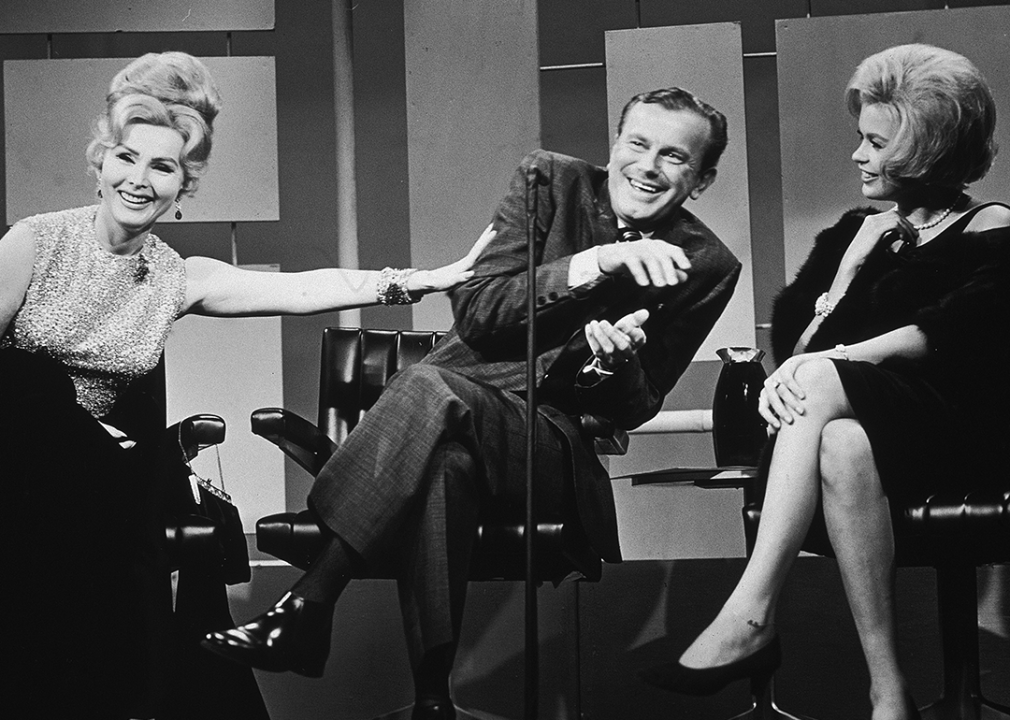 NBC Television/Courtesy of Getty Images
By 1957, the enigmatic and unpredictable broadcaster Jack Paar had become the permanent host of "Tonight" on NBC. Paar was often embroiled in drama and controversy, even walking off from the show after a joke of his was axed by network censors. Regardless, the show made a mark with its political content and Paar's often emotional monologues.
Johnny Carson begins his long tenure on 'The Tonight Show'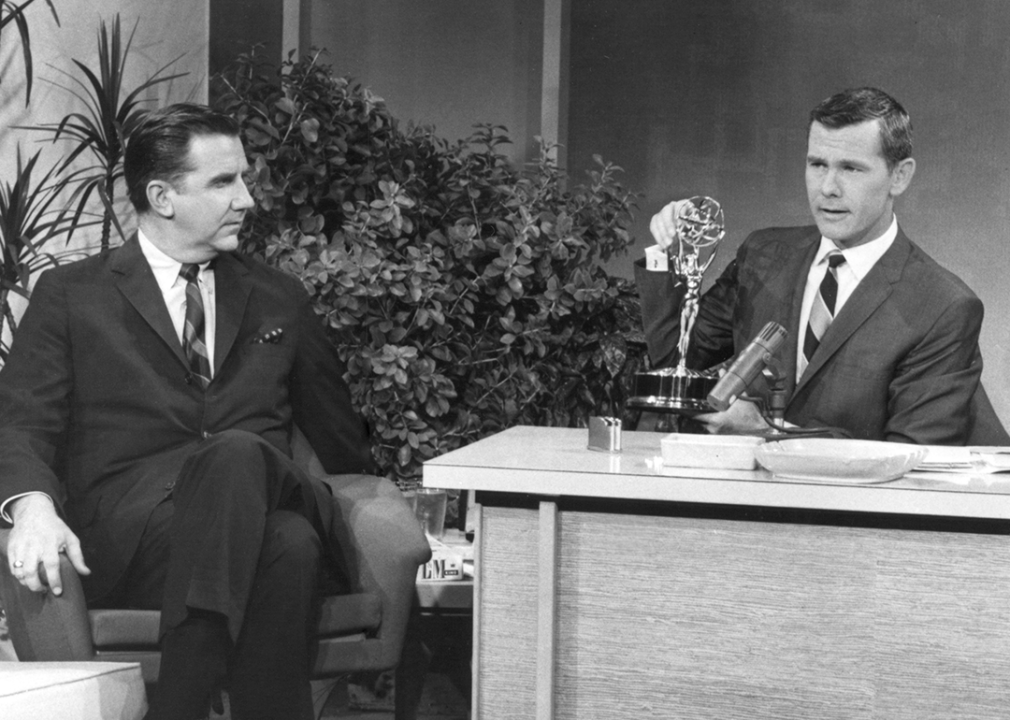 Silver Screen Collection // Getty Images
NBC gave the keys to "Tonight" to television host Johnny Carson, who eventually had the longest and most iconic run in the franchise.
With announcer and sidekick Ed McMahon, who yelled the entrance line "Here's Johnny!" every weeknight, and memorable comedic bits like Carnac the Magnificent, where Carson would dress up in a large feathered turban purporting to answer life's tricky questions, and Stump the Band, where audience members are called on to sing a song that will leave the house band guessing, "The Tonight Show Starring Johnny Carson" became a springboard for comedians and actors who would appear as guests early in their career, and the guiding light for every late-night talk show host to come afterward.
Tom Snyder takes a different approach in late-night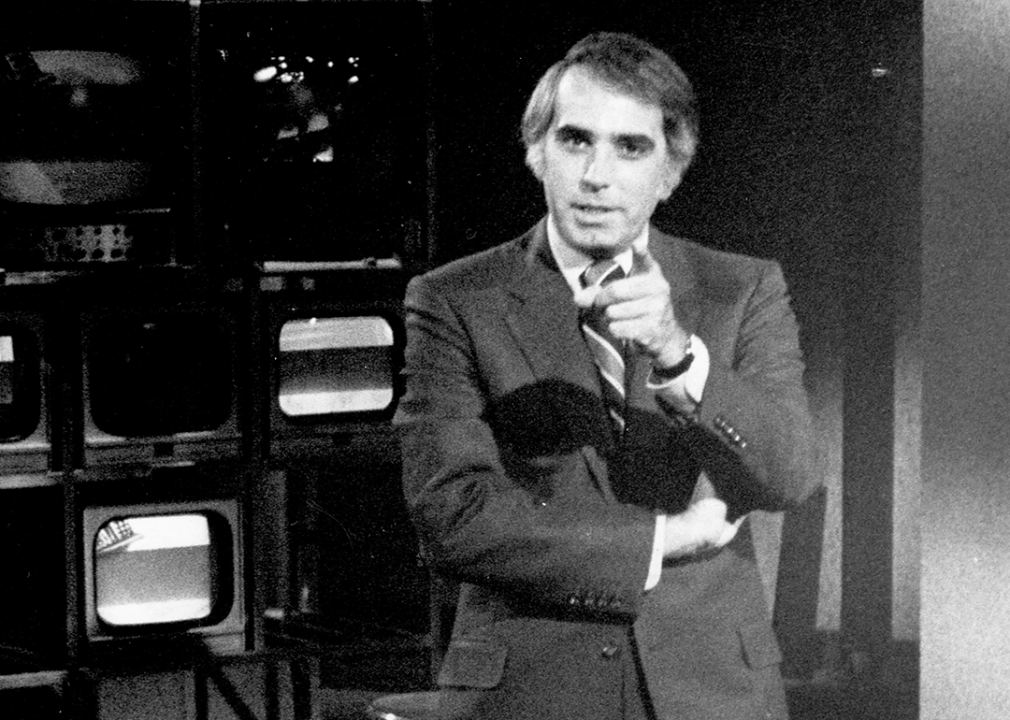 Michael Ochs Archives // Getty Images
Beginning in 1973 after "The Tonight Show" moved from New York City to Burbank, "The Tomorrow Show" followed right after Carson's program every night from Monday to Thursday. Featuring one-on-one interviews and taking a more intellectual tone, "The Tomorrow Show" lasted until 1981, when low ratings and a troubled production led to its cancellation by NBC.
David Letterman takes the 12:30 a.m. slot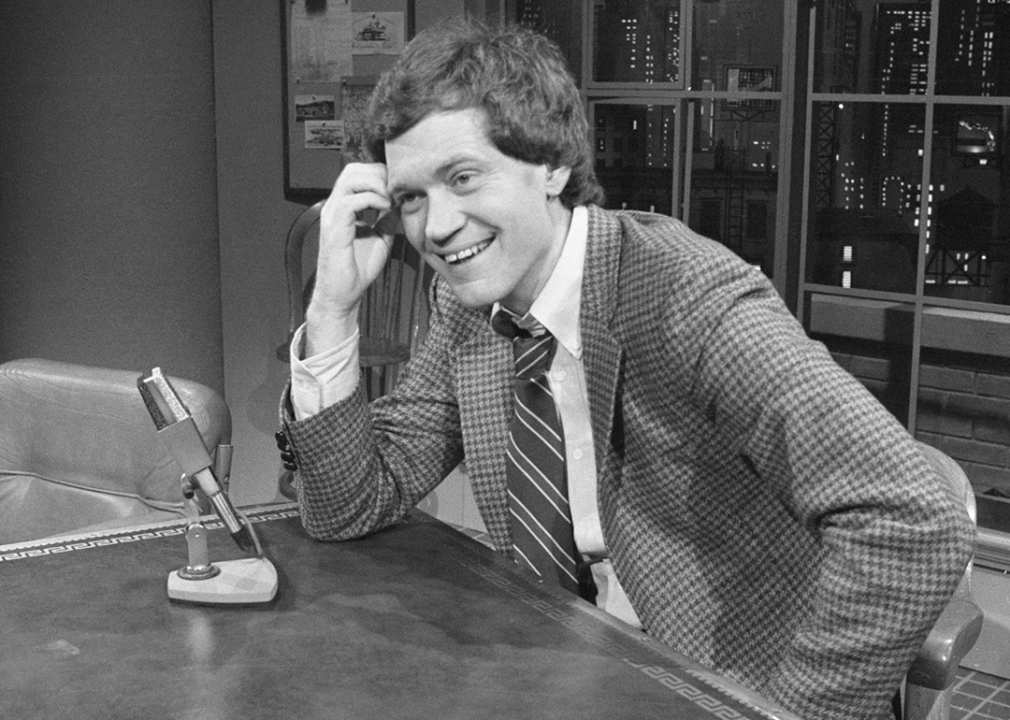 Bettmann // Getty Images
The first iteration of "Late Night with David Letterman" on NBC began when David Letterman hosted a short-lived morning variety show on NBC in 1980.
The 12:30 a.m. slot is where Letterman thrived. Winning multiple Primetime Emmy Awards through its run, the show would gain a following, drawing audiences with weird celebrity interviews; segments like Stupid Pet Tricks, where regular folks could show off their pet's strangest antics; and the iconic Top 10 List, where the host would compile a list around a particular theme like things he learned working for "The Late Show" or favorite California names.
Rivals of Johnny Carson falter, including Joan Rivers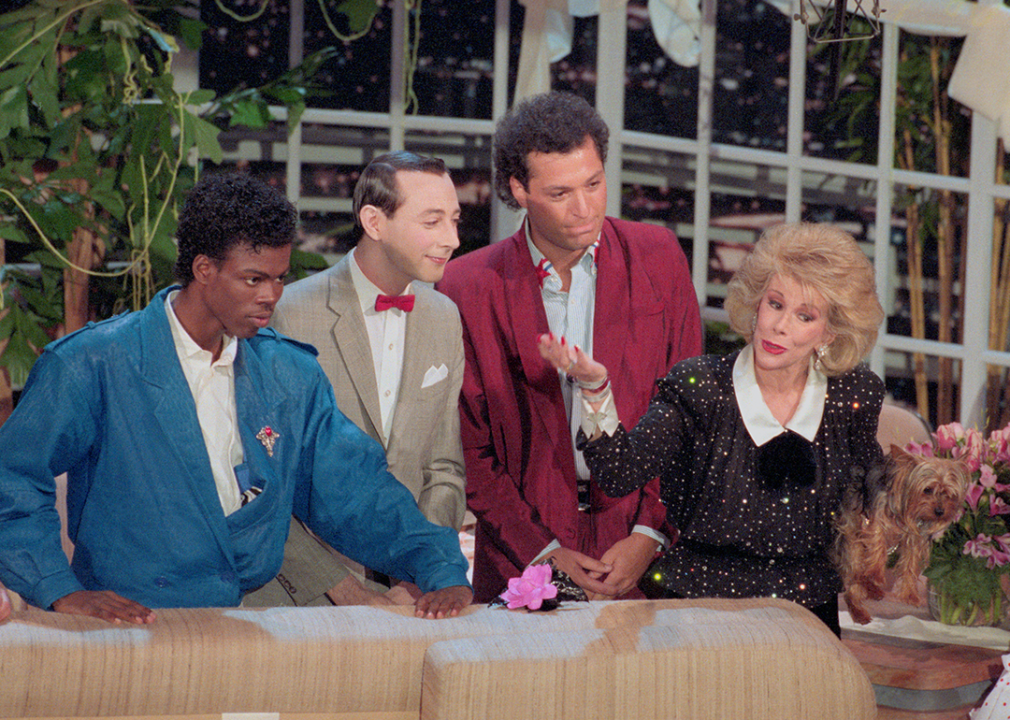 Bettmann // Getty Images
Throughout his run, Johnny Carson was the undisputed "King of Late Night." Attempts at competing late-night talk shows from other networks would regularly fail. Competitors included Dick Cavett, Pat Sajak, and Merv Griffin.
Perhaps Carson's most prominent rival was Joan Rivers, who was then the permanent guest host of "The Tonight Show." After taking an opportunity to host a talk show of her own for the new Fox network without consulting Carson, Carson never spoke to Rivers again.
Rivers was banned from "The Tonight Show" and Carson's bookers were also told not to entertain any guests who came on to Rivers' new show. Given all the odds against it, "The Late Show" with Joan Rivers was understandably short-lived.
Arsenio Hall hits the airwaves in syndication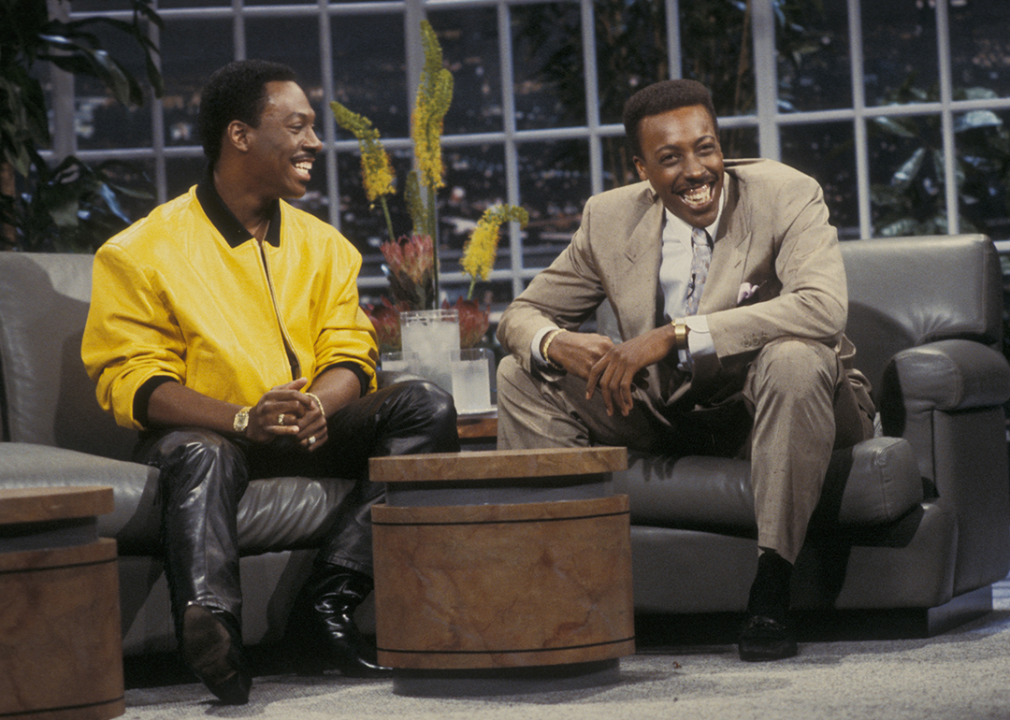 Ron Galella, Ltd./Ron Galella Collection via Getty Images
After hosting the final weeks of the ill-fated "The Late Show" for Fox, comedian Arsenio Hall struck a deal with Paramount for a syndicated late-night talk show, one that outlasted Carson's show by two years and won over a young urban audience.
Memorable moments include then-presidential candidate Bill Clinton appearing as a guest and playing the saxophone, which resonated with young viewers, and Magic Johnson discussing his HIV diagnosis on the show.
Hall left the show in 1994, during which the late-night landscape had expanded.
Johnny Carson retires from 'The Tonight Show'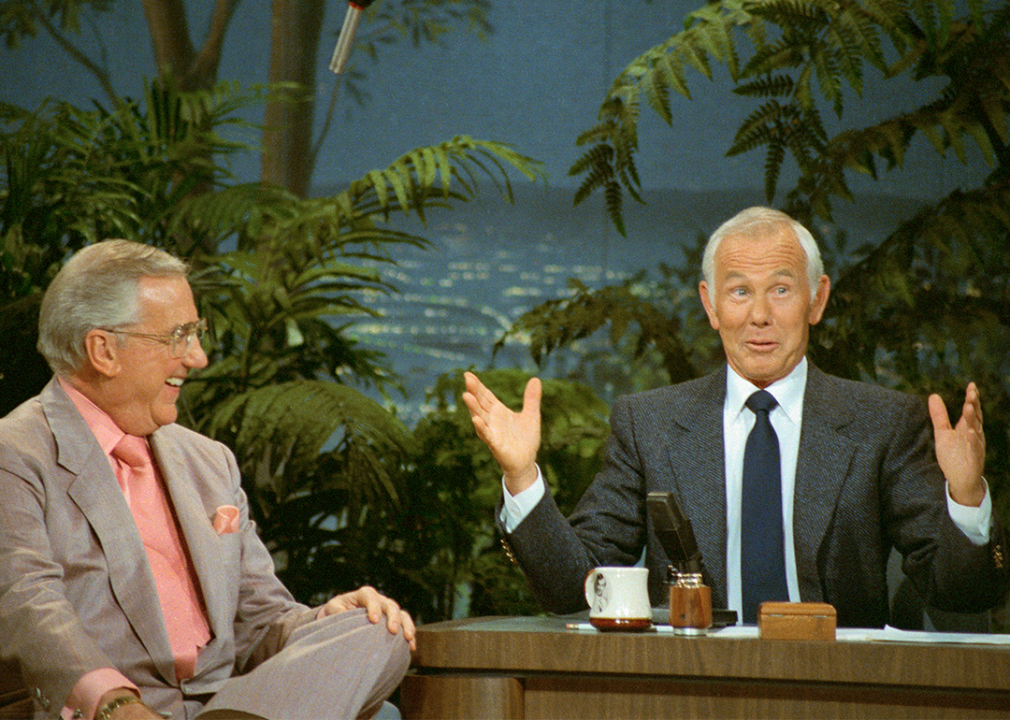 Bettmann // Getty Images
Ending a 30-year run, Johnny Carson ended his version of "The Tonight Show" in 1992. Carson's penultimate show included a lively appearance from Robin Williams and an emotional and tear-inducing performance from Bette Midler. Carson's actual final show was lowkey, with the host sitting center stage and directly addressing the audience.
Jay Leno beats Letterman for 'The Tonight Show' gig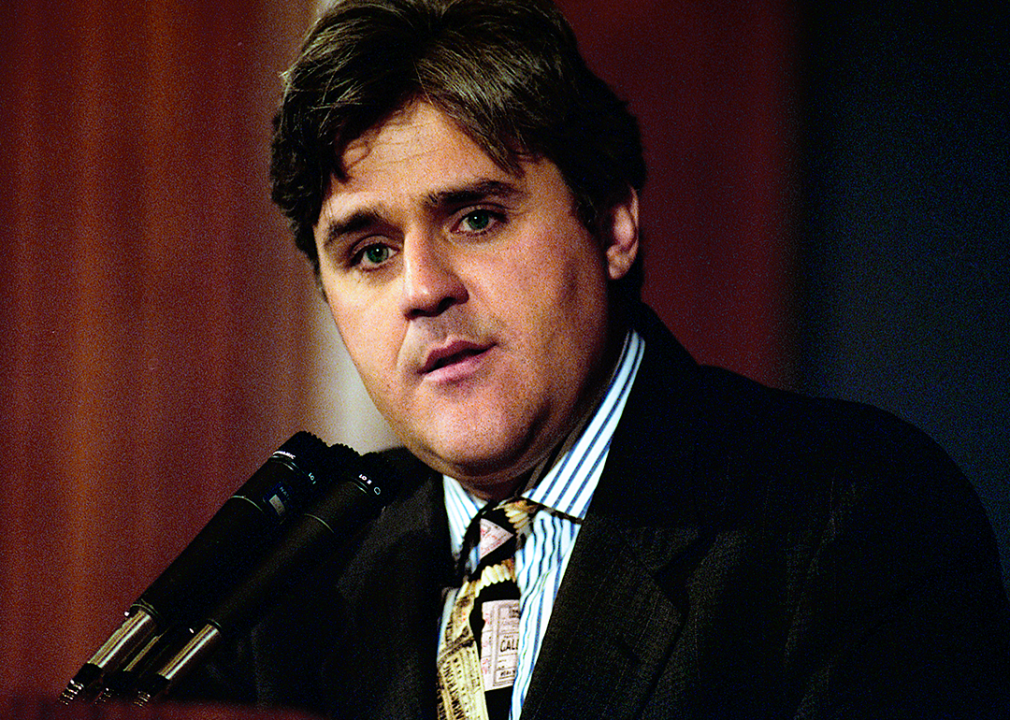 Mark Reinstein/Corbis via Getty Images
The topic of Johnny Carson's succession was a hot topic in show business, and the late-night space still feels the ripples of that process and ensuing drama.
At the time, comedian Jay Leno was the permanent guest host of "The Tonight Show," but "Late Night" host David Letterman was also interested in the position and was reportedly the preferred choice from Carson.
Ultimately, Leno won the job from NBC, with the drama becoming the subject of Bill Carter's book (and its HBO film adaptation) "The Late Shift."
David Letterman moves to CBS as networks scramble post-Carson
CBS/AFP via Getty Images
After losing "The Tonight Show" at NBC in 1992, David Letterman accepted an offer from CBS to develop a new late-night show that competed in the 11:30 p.m. slot against his former friend Jay Leno. "Late Show with David Letterman" shot in the Ed Sullivan Theater in New York City, and Letterman brought his band and comedy segments—albeit renamed due to intellectual property disputes from NBC.
Another show that debuted in the wake of Carson's departure was Fox's "The Chevy Chase Show," which bombed critically and ratings-wise.
Conan O'Brien makes his 'Late Night' debut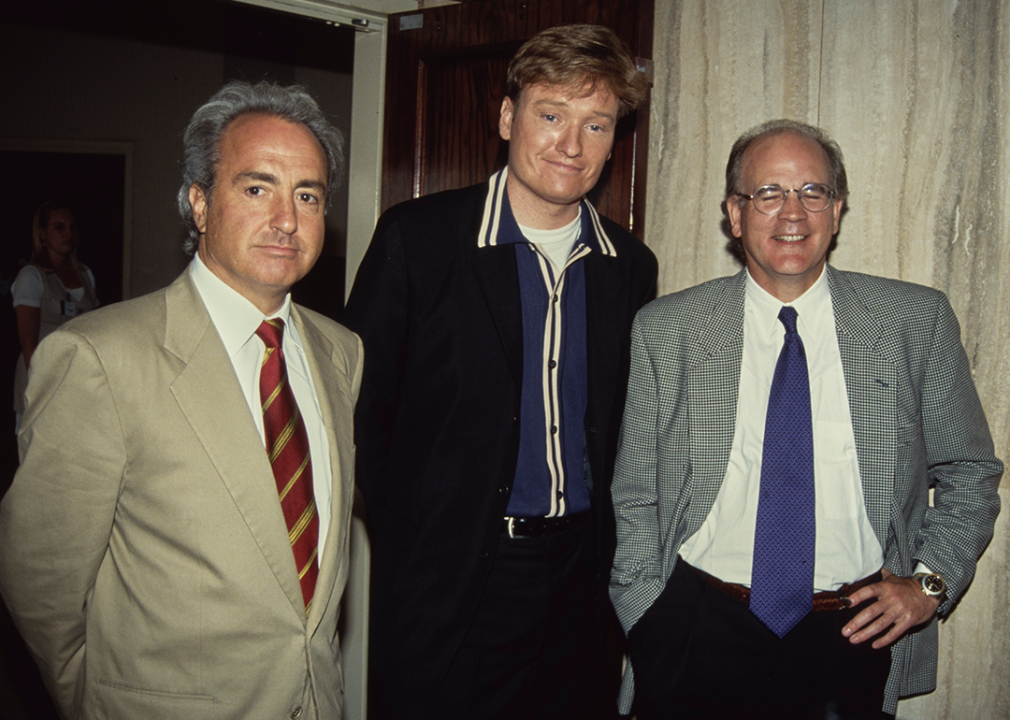 Vinnie Zuffante // Getty Images
After David Letterman left the 12:30 slot at NBC vacant, the network looked to "Saturday Night Live" creator Lorne Michaels to develop a new show. Michaels handpicked former "SNL" writer and then-"The Simpsons" staff writer Conan O'Brien to take over "Late Night" in 1993, though he was a complete unknown at the time.
Despite a shaky first few years, O'Brien grew into the role and became popular among young audiences with absurdist comedic characters and memorable remotely filmed segments.
'The Late Late Show' premieres with a returning Tom Snyder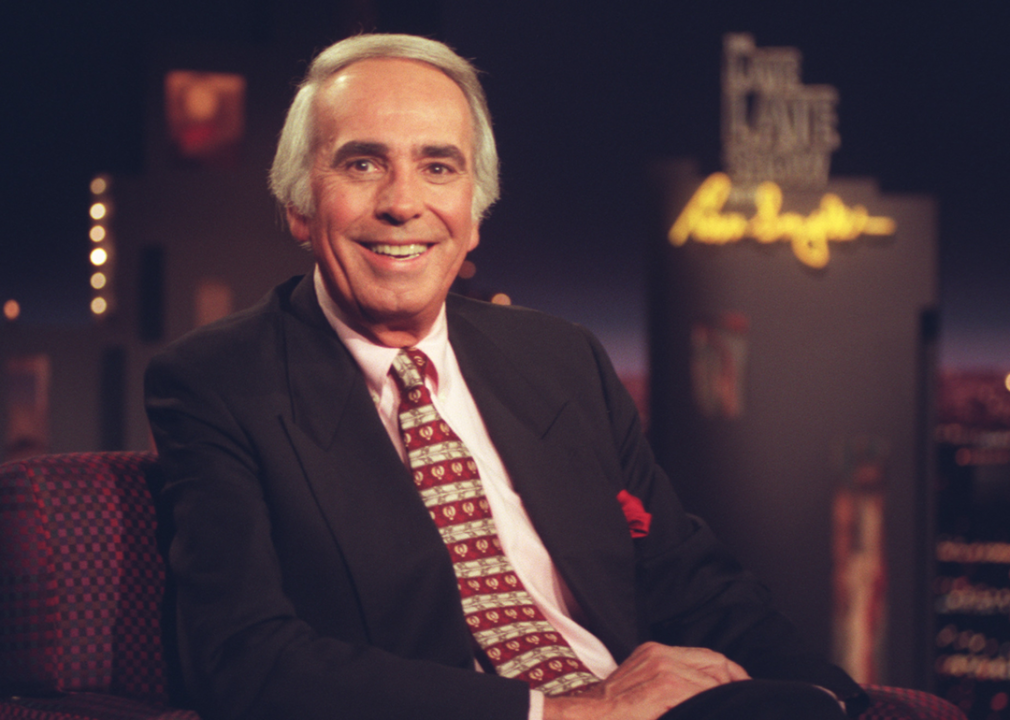 Perry Riddle/Los Angeles Times via Getty Images
In 1995, CBS tried its hand at the 12:30 a.m. slot. David Letterman asked Tom Snyder, who had the 12:30 a.m. slot over at NBC with "The Tomorrow Show," to host.
"The Late Late Show" began with the same format as Snyder's "Tomorrow," featuring no audience members and focusing on intimate one-on-one interviews. Some notable guests included Gloria Vanderbilt, who recounted her son's suicide, and actor Robert Blake—before he was charged for the murder of his wife.
Snyder eventually left the show in 1999, and CBS replaced him with "The Daily Show" host Craig Kilborn.
Cable late-night shows emerge, especially 'The Daily Show'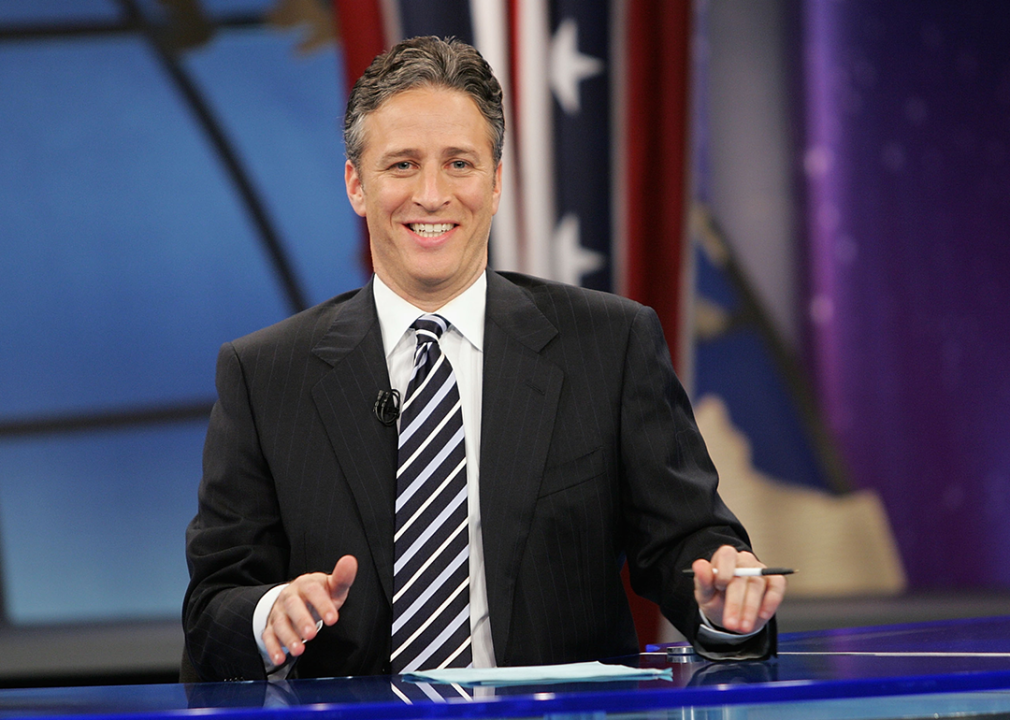 Frank Micelotta // Getty Images
Cable networks eventually joined the fracas with MTV airing "The Jon Stewart Show" starting in 1993 and Comedy Central debuting news satire "The Daily Show" in 1996, which starred Craig Kilborn and featured comedian Stephen Colbert as a "correspondent."
After Kilborn left to host "The Late Late Show" for CBS, Jon Stewart took over in 1999, with a supporting cast of Colbert, Steve Carell, and other comedians who would eventually have prolific careers.
Jimmy Kimmel enters the late-night space on ABC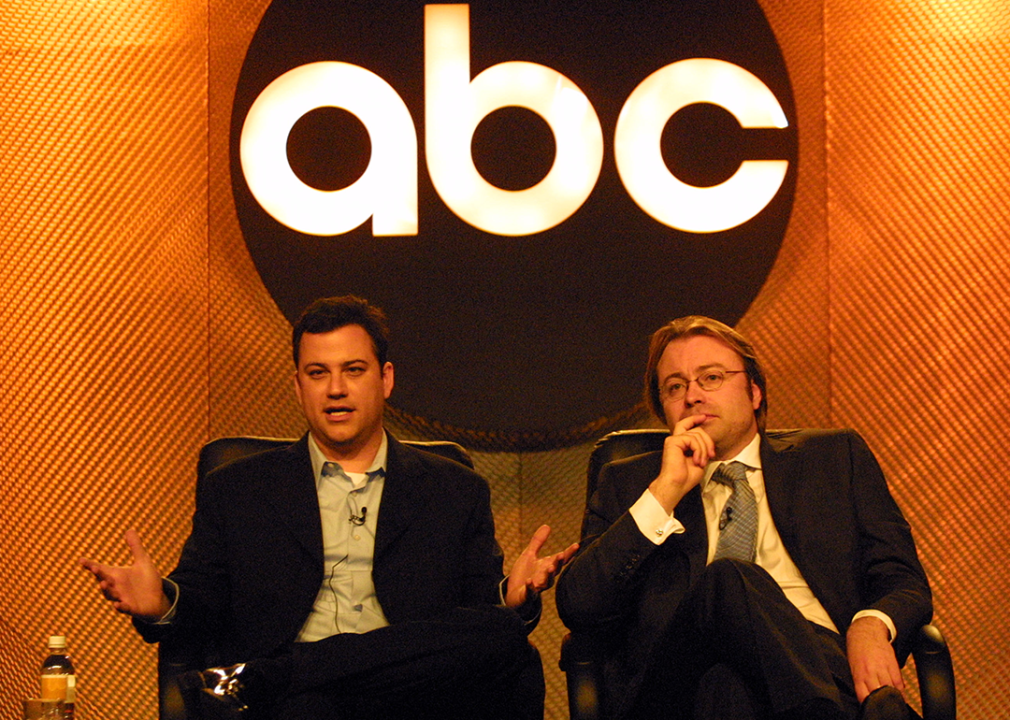 Frederick M. Brown // Getty Images
While ABC had late-night programming with the news show "Nightline," the network entered the late-night comedy space with host Jimmy Kimmel in 2003, who had previously hosted "Win Ben Stein's Money" and "The Man Show."
Initially airing after "Nightline," "Jimmy Kimmel Live!" gained popularity with recurring jokes such as Kimmel's ongoing "feud" with actor Matt Damon and other viral segments.
"Jimmy Kimmel Live!" now airs before "Nightline," directly competing with "The Tonight Show" and "The Late Show."
Jay Leno announces retirement and Conan succession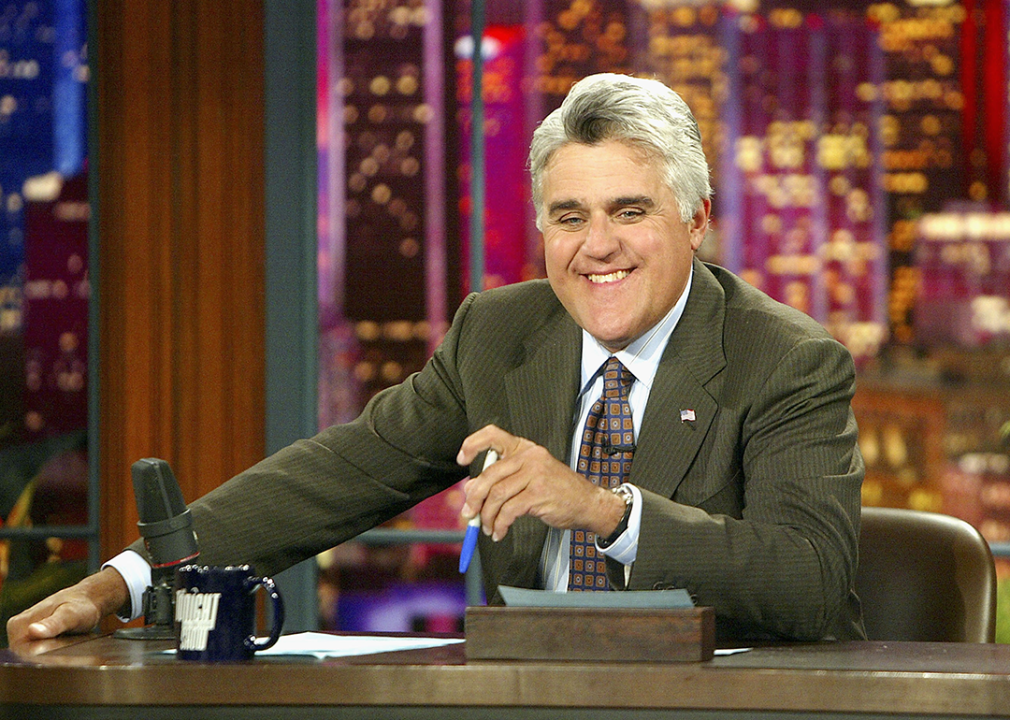 Kevin Winter // Getty Images
In 2004, the 50th anniversary of "The Tonight Show," Jay Leno made the surprise announcement that he would retire in 2009, with "Late Night" host Conan O'Brien taking over the program afterwards.
Leno cited the desire to avoid the bad blood between himself and Letterman after Carson had left the show. The Los Angeles Times reported that Leno had been hurt by his portrayal in the debacle from both the press and Bill Carter's "The Late Shift."
It also didn't hurt that NBC wanted to keep O'Brien, who was receiving offers from other networks.
Craig Ferguson innovates 'The Late Late Show'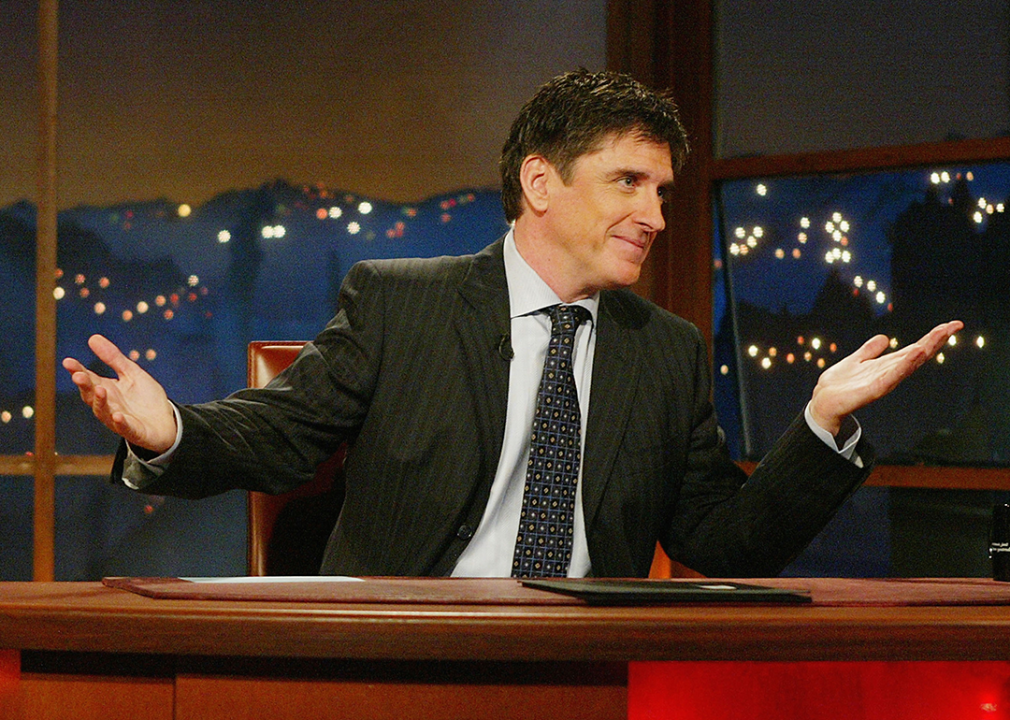 Kevin Winter // Getty Images
After Craig Kilborn left "The Late Late Show" in 2004, the CBS program continued with guest hosts; at the recommendation of Peter Lassally, who was an executive producer for Johnny Carson and David Letterman, Letterman picked Scottish comedian Craig Ferguson for "The Late Late Show."
From 2005 to 2015, Ferguson developed a cult fanbase based on his unconventional approach to the late-night format, emphasizing spontaneous interviews, personal and rambling comedic monologues, and eventually, a robot sidekick named Geoff Peterson.
Jimmy Fallon takes over 'Late Night'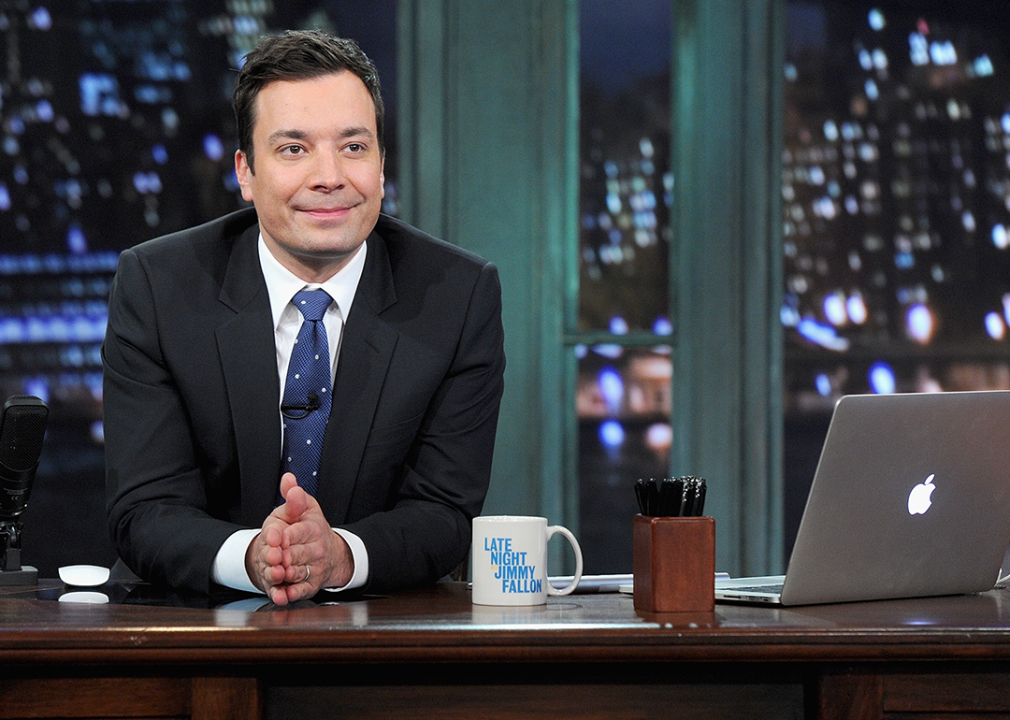 Jamie McCarthy // Getty Images
With Conan O'Brien as the selected heir for "The Tonight Show," NBC once again turned to "SNL" creator Lorne Michaels to pick the new host for "Late Night," with the job going to "SNL" and "Weekend Update" alum Jimmy Fallon.
Debuting in 2009, "Late Night with Jimmy Fallon" incorporated digital media in this modern take on the format, and with Fallon's celebrity connections through "SNL" and background in sketch comedy, the show produced a number of viral YouTube videos.
Conan O'Brien takes over 'The Tonight Show'—and then leaves it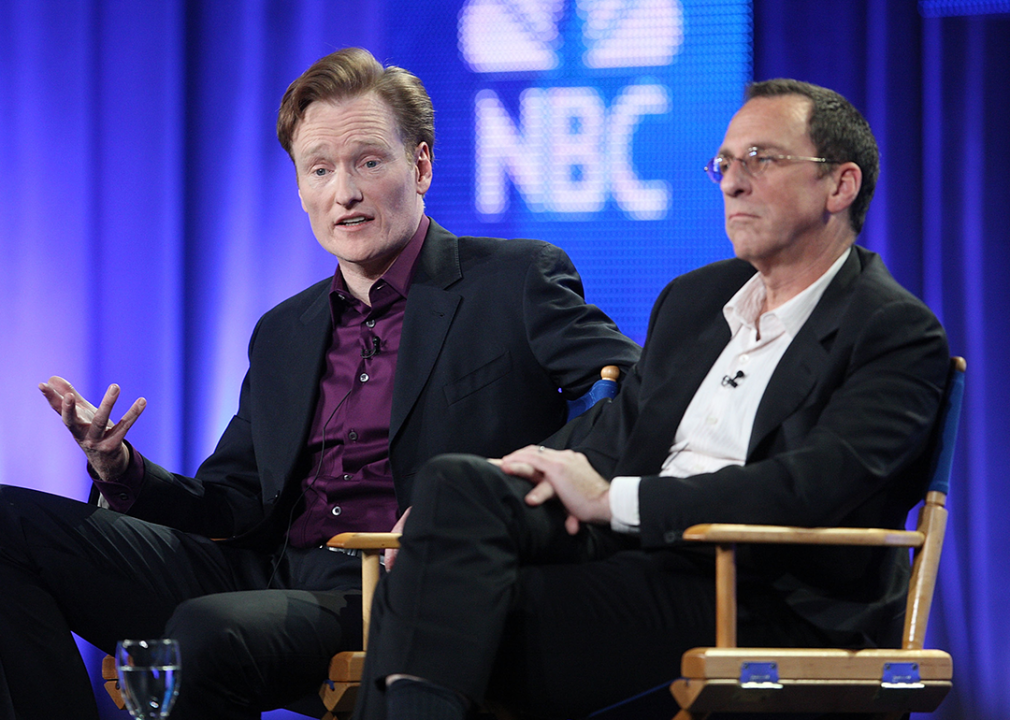 Frederick M. Brown // Getty Images
As announced years prior, Conan O'Brien moved from New York City to Los Angeles in 2009 to take over "The Tonight Show," while Jay Leno moved to a prime-time variety talk show simply titled "The Jay Leno Show."
O'Brien's show eventually struggled against Letterman's in the ratings, and Leno's move to prime time led to low numbers overall at NBC. Following a proposal from the network to move "The Jay Leno Show" to 11:30 p.m. and "The Tonight Show" to midnight for the first time, O'Brien left the show and the network on acrimonious terms, with Leno returning to "The Tonight Show" and O'Brien moving to cable network TBS at the end of 2010.
Jon Stewart leaves 'The Daily Show' as alumni thrive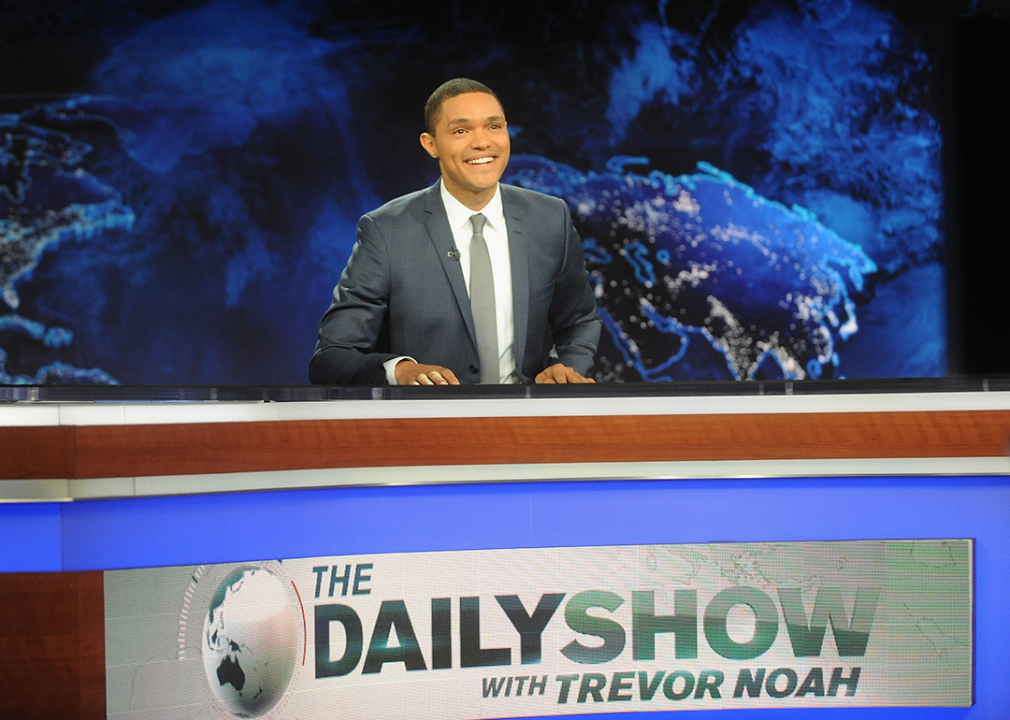 Brad Barket // Getty Images for Comedy Central
Citing a general loss of satisfaction from his job, Jon Stewart said goodbye to "The Daily Show," leaving behind a formidable legacy. Many "Daily Show" alums successfully used the program as a springboard for other late-night shows.
Stephen Colbert had already hosted "The Colbert Report" from 2005 to 2014, while correspondents Samantha Bee, Hasan Minhaj, Larry Wilmore, and John Oliver also gained notoriety. Trevor Noah, then a contributor to the show, was chosen to succeed Colbert; Noah stayed in the role until 2022.
A new late shift: Fallon replaces Leno, Colbert replaces Letterman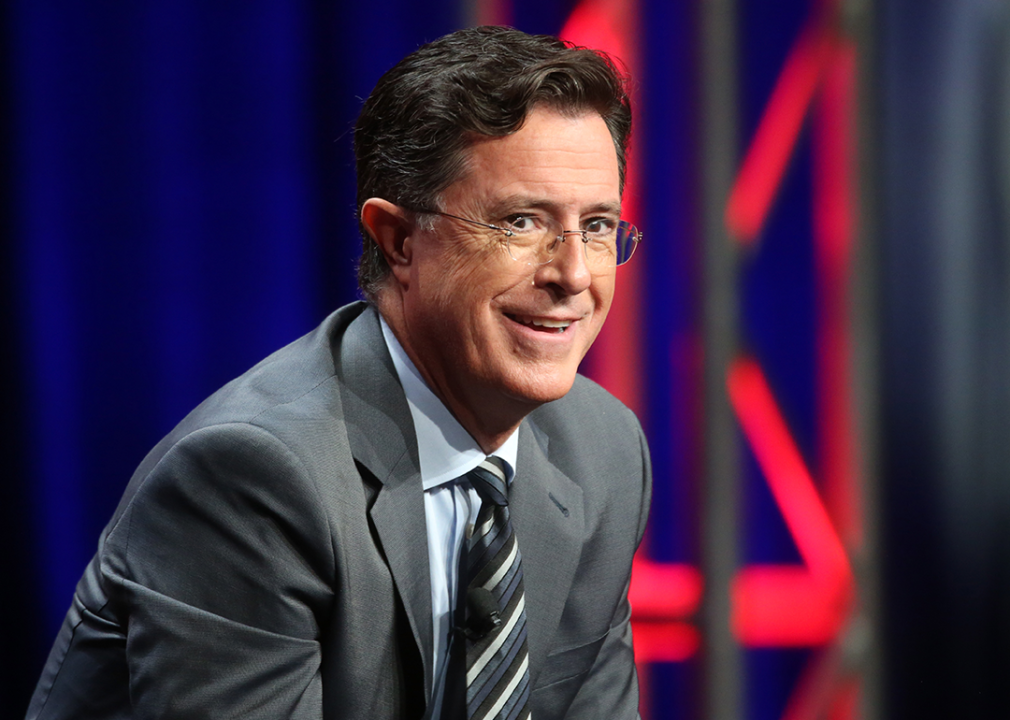 Frederick M. Brown // Getty Images
After Jay Leno (once again) left "The Tonight Show" in 2014, "Late Night" host Jimmy Fallon took over, with "The Tonight Show Starring Jimmy Fallon" taking the franchise back to New York City. Meanwhile, on CBS, David Letterman announced his own retirement from "The Late Show," and Stephen Colbert became his successor.
With Fallon moving to 11:30 p.m. and Craig Ferguson stepping down from "The Late Late Show," "SNL" Weekend Update host Seth Meyers and British comic James Corden took the 12:30 a.m. slot on NBC and CBS, respectively.
John Oliver succeeds Jon Stewart as perennial Emmy winner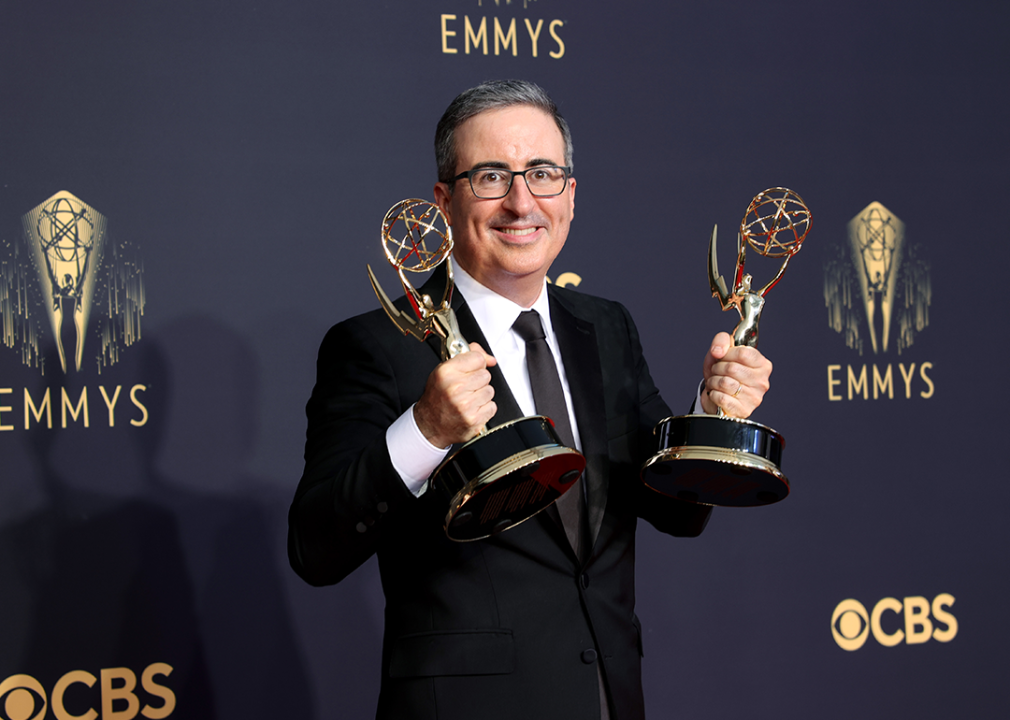 Rich Fury // Getty Images
During the peak years of "The Daily Show" with Jon Stewart, the program would regularly win the Primetime Emmy for Outstanding Variety Series (which would eventually spinoff into the Outstanding Variety Talk Series award).
Since 2016, "Last Week Tonight with John Oliver," a weekly late-night show summing up the news from the previous week and showcasing deep-dive breakdowns of socioeconomic and political topics, has won the Emmy in the variety series category every year and continues to garner critical acclaim.
Late-night shows battle over YouTube views
Bruce Glikas/Bruce Glikas/FilmMagic // Getty Images
With mainstream media shifting from broadcasting to streaming, shows from hosts such as Jimmy Fallon, James Corden, and Jimmy Kimmel produced content with the aim of going viral on YouTube.
Corden famously had the Carpool Karaoke segment that featured him singing popular songs with celebrities, while Fallon had guests participate in segments like Wheel of Musical Impressions and making headlines solely from these moments. While younger viewers digest late-night comedy content online now, linear television viewers have led Fox News' "Gutfeld!" to the top of the ratings.
James Corden leaves, ending 'The Late Late Show'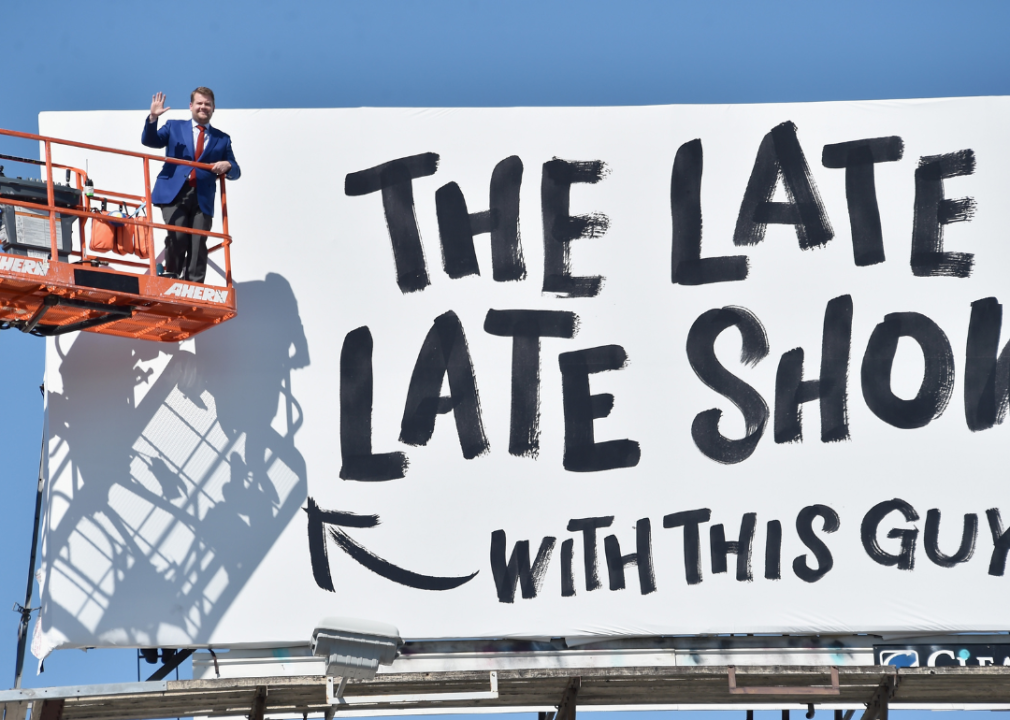 Alberto E. Rodriguez // Getty Images
The COVID-19 pandemic led to mainstream talk show hosts doing their shows remotely or from home, with shows returning to the studios in late 2020 and 2021.
James Corden announced in 2022 that he would leave the show the following year—rather than continuing the show with a new host, CBS will replace it with a reboot of panel show "@midnight," effectively ending the franchise that began in 1995 and won a Peabody Award during Craig Ferguson's tenure.
Striking late-night hosts start the 'Strike Force Five' podcast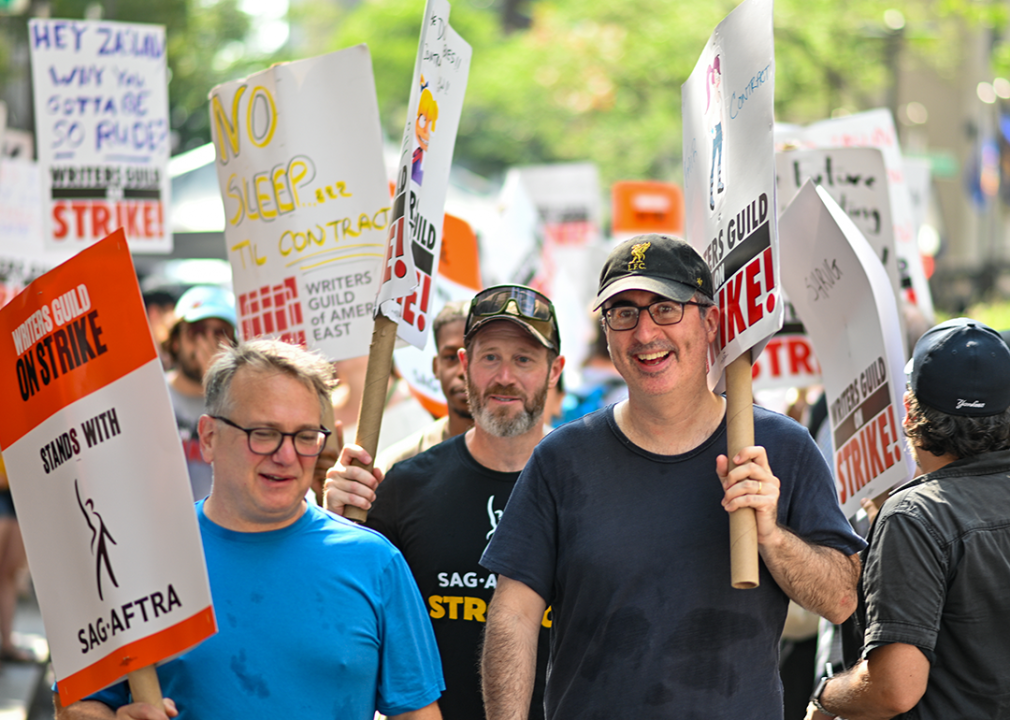 Alexi Rosenfeld // Getty Images
During the 2023 Writers Guild of America strike, hosts Stephen Colbert, Jimmy Kimmel, Jimmy Fallon, Seth Meyers, and John Oliver teamed up for a podcast titled "Strike Force Five," with proceeds going to the workers for all five of their shows while they were off the air.
The podcast featured guests such as Jon Stewart, David Letterman, and Ryan Reynolds, ending after 12 episodes when the strike ended at the end of September 2023. The podcast show highlights the positive relationship that modern late-night talk show hosts have, compared to the rivalries between Carson and his contemporaries or Jay Leno and Letterman in the 1990s.
Story editing by Carren Jao. Copy editing by Tim Bruns.