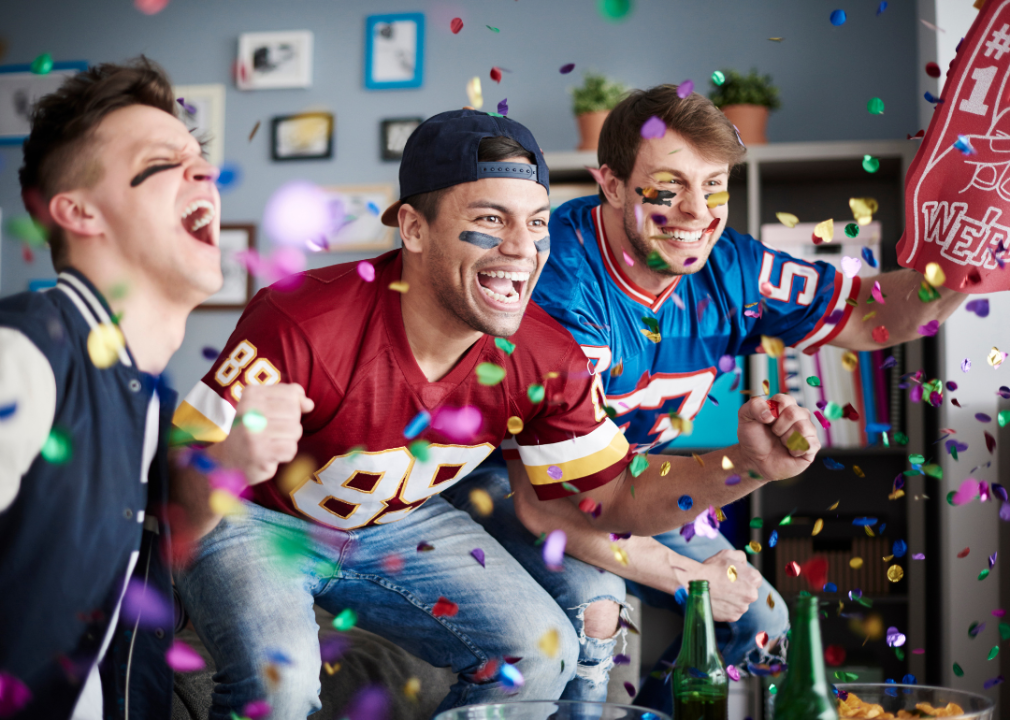 Canva
Over the years, the NFL has provided fans with incredible stories of teams with long-shot odds that ultimately win the Super Bowl.
Most recently, the 2017 Philadelphia Eagles opened the season with +4000 odds to win the Lombardi Trophy and proceeded to do so behind the arm of backup quarterback Nick Foles. It was a campaign that will never be forgotten by Eagles fans, as it marked the franchise's first Super Bowl victory.
In honor of the many memorable Super Bowl underdog stories in league history, ATS.io compiled a list of NFL teams with strong long-shot bets to win the 2024 Super Bowl using data from Sports Odds History. Teams that were not in the top 10 in terms of odds, according to Sports Odds History's data as of Week 8 of the NFL season, were considered.
The Seattle Seahawks and Los Angeles Chargers have some of the strongest long-shot title odds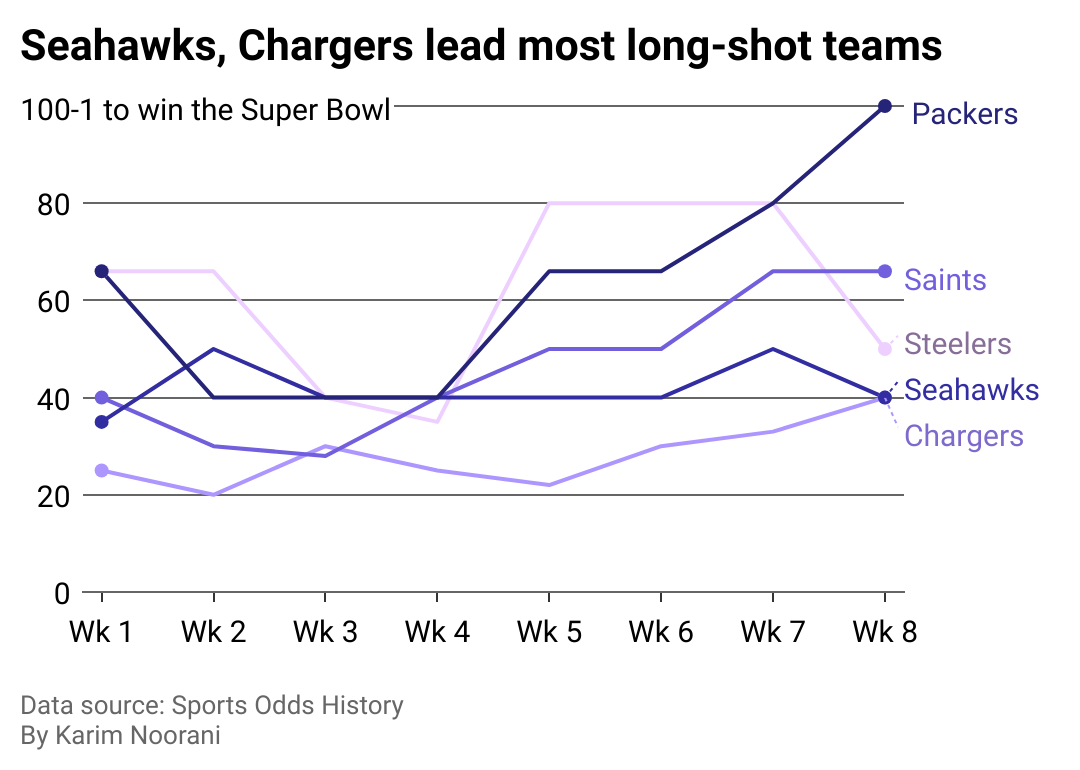 ATS.io
There are underdogs, and then there are underdogs. If the Green Bay Packers win the 2024 Super Bowl, it will be an unbelievable story. But that's what makes them a long shot. The other teams on this list of Super Bowl long shots offer more reasonable chances, though they'd still be surprise champions.
The Minnesota Vikings would have made an appearance had it not been for Kirk Cousins' Oct. 29 injury, and the Cleveland Browns didn't make the cut because they're 1-2 in their division. The Pittsburgh Steelers are 2-0, and that could make all the difference in a tight playoff race. Other fringe teams will have to wait until next year.
Seattle Seahawks +4000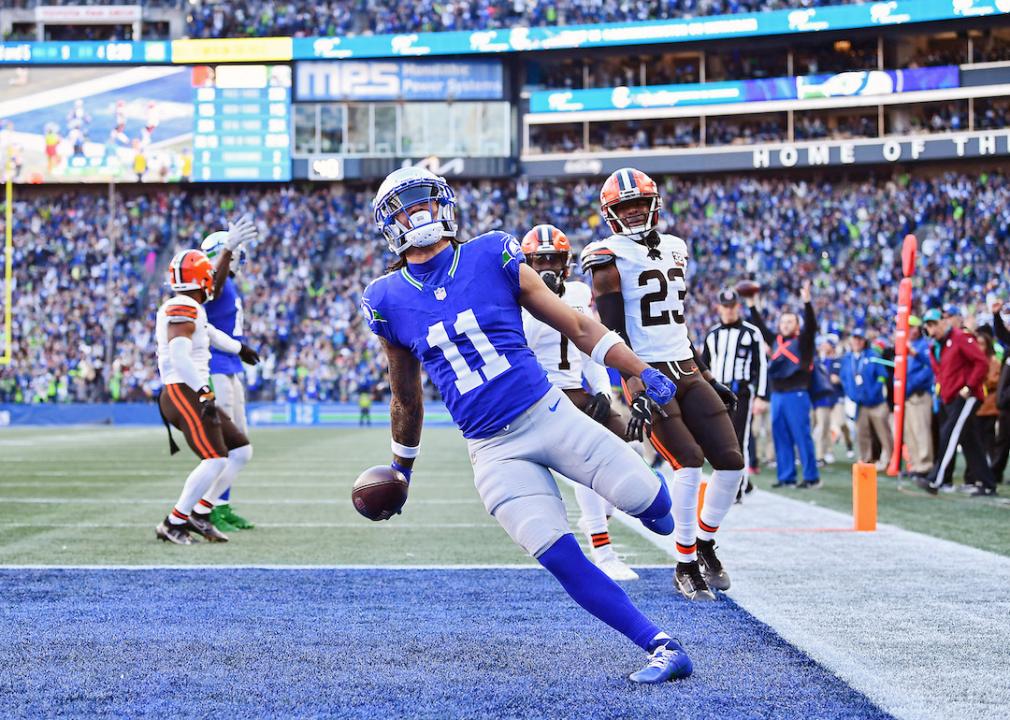 Jane Gershovich // Getty Images
Ever since the Seattle Seahawks traded quarterback Russell Wilson to the Denver Broncos after the 2021 season, the team has played like one with a chip on its shoulder. The Seahawks went 9-8 last season behind quarterback Geno Smith's impressive comeback campaign, and they made the playoffs after many expected them to be one of the worst teams in the league.
The Seahawks rolled over that success into the 2023 season, beginning 3-1 but looking up at the top Super Bowl contender in the NFC West—the San Francisco 49ers (+550). The Seahawks' 30-13 Week 1 loss to the Los Angeles Rams drew criticism, but head coach Pete Carroll righted the ship immediately, reeling off three straight wins. They won their second straight Sunday on Oct. 29 to improve to 5-2 after wide receiver Jaxon Smith-Njigba caught a 9-yard touchdown pass from Smith with 38 seconds to play.
As its +4000 odds show, there's no widespread belief in Seattle to win the Super Bowl. But there aren't many teams capable of defeating any team on any given day—and the Seahawks are among that select group.
Los Angeles Chargers +4000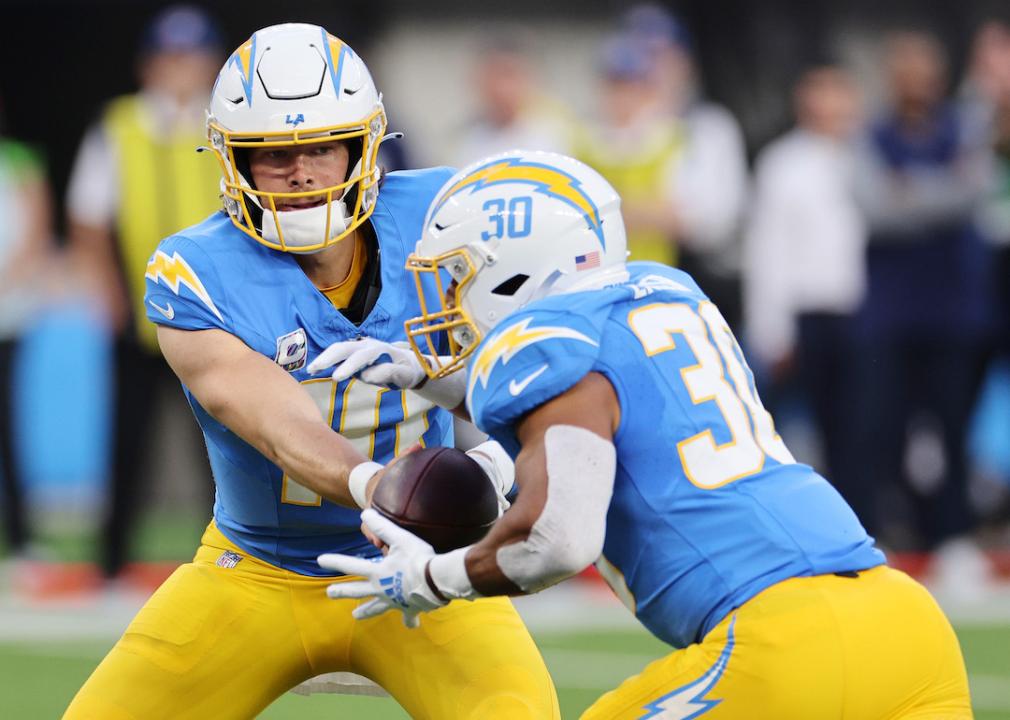 Kevork Djansezian // Getty Images
The Chargers are only 3-4, but they played their best game of the season in a 30-13 victory over the Chicago Bears on Oct. 29. Quarterback Justin Herbert and running back Austin Ekeler had bounce-back performances after struggling with injuries. Herbert threw three touchdown passes to help the team stop a two-game losing streak, and Ekeler caught seven passes for 94 yards and a score.
The Los Angeles defense is shaky, but it intercepted two passes and played well against a bad team. The Chargers have plenty of blue-chip defenders in addition to offensive stars Herbert, Ekeler, and Keenan Allen. If Khalil Mack, Joey Bosa, Asante Samuel Jr., and Derwin James Jr. can get their unit to make stops, Herbert will always give the Chargers a chance.
The team started the season with +2500 odds, climbed to +2000 after nearly upsetting the Miami Dolphins (now 6-2) in Week 1, and fell to +4000 by Week 8. But they are still worth a gamble.
Pittsburgh Steelers +5000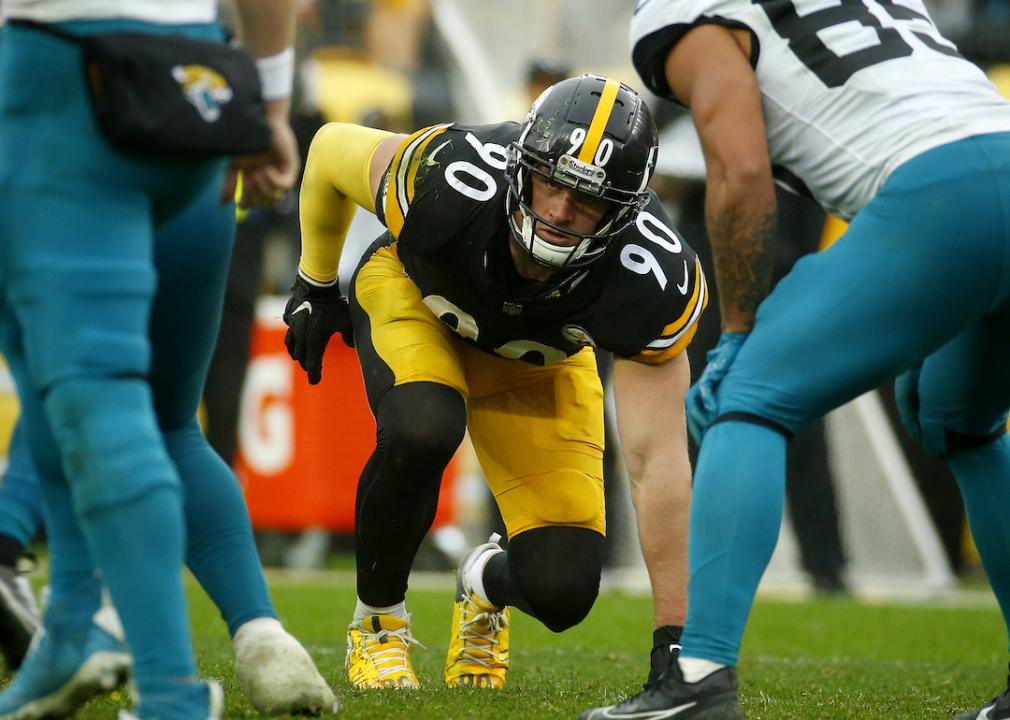 Justin K. Aller // Getty Images
The Steelers have one of the best coaches in the NFL in Mike Tomlin, and second-year quarterback Kenny Pickett has shown plenty of promise.
Pickett suffered a rib injury in a loss to the Jacksonville Jaguars on Oct. 29 and has missed parts of two games. But Pittsburgh is a threat to win the Super Bowl if he's healthy. The Steelers are 4-3 and play in perhaps the best division, the AFC North. They have never finished with a losing record in Tomlin's previous 16 seasons.
Their typically sturdy defense has shown cracks, but T.J. Watt, Levi Wallace, Minkah Fitzpatrick, and the rest of that crew have forced the second-most turnovers in the league. If that continues, Tomlin and the Steelers can win their first playoff game—and maybe even beyond—since 2016.
New Orleans Saints +6600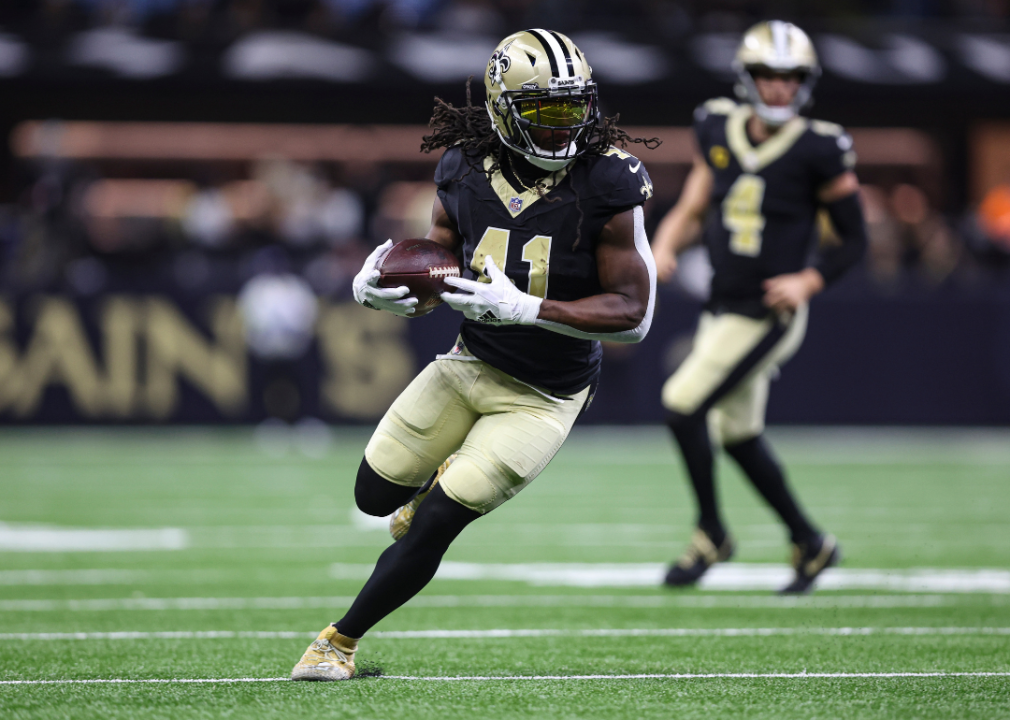 Perry Knotts // Getty Images
The case for the New Orleans Saints to be legitimate long-shot Super Bowl contenders is a unique one, but it comes down to one thing. The Saints have a new quarterback in Derek Carr, who is quite talented (even if many debate it), and he's working within a new offense.
If not for a shoulder injury Carr suffered in Week 3 against the Packers, the Saints could have started off with a 3-1 or 4-0 record. Against Green Bay, the four-time Pro Bowler led New Orleans to a 17-0 lead, but the Packers came back after he left the field.
Despite their 4-4 record, the Saints have a stout defense and a lot of offensive talent, including running back Alvin Kamara and wide receivers Chris Olave and Michael Thomas. In beating the Colts 38-27 on Oct. 29, Carr threw for 310 yards and two touchdowns. If he continues to play like that, the Super Bowl odds don't look too bad for the Saints.
Green Bay Packers +10000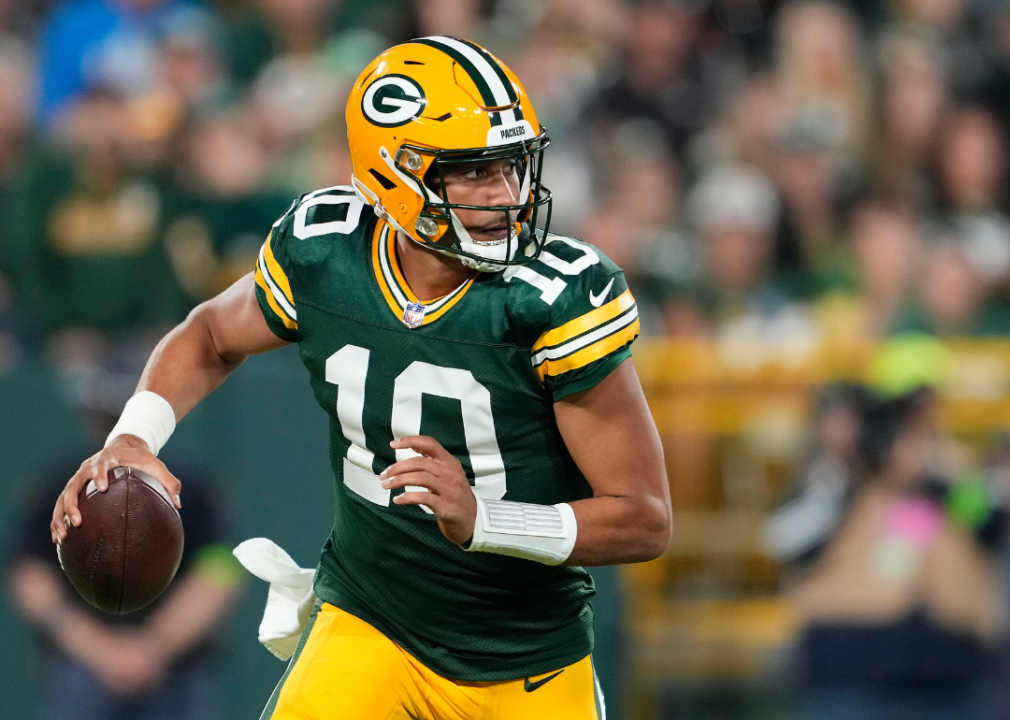 Patrick McDermott // Getty Images
One of the Packers' two wins came only after Derek Carr's injury. But their 25-24 Week 2 loss to the Atlanta Falcons was avoidable, as Green Bay surrendered 13 unanswered points in the fourth quarter. Quarterback Jordan Love and company also held late leads in one-possession losses to the Las Vegas Raiders and Denver Broncos.
There were plenty of questions about Love, as he is in his first season as a full-time starter and taking over for the legendary Aaron Rodgers. But while Love has had his ups and downs, he has still thrown 11 touchdown passes against eight interceptions.
It hasn't been perfect for the Packers, as starting running back Aaron Jones missed three games with a hamstring injury, and they fell to 2-5 with a 24-10 loss to the Minnesota Vikings on Oct. 29. This group has one of the league's easiest remaining schedules, though, and if Love can put it all together and the team can get in a position to make the playoffs (Minnesota will be without quarterback Kirk Cousins), +10000 has some appeal. Green Bay started the season at +6600 and was only +4000 after its comeback victory against New Orleans on Sept. 24.
Additional writing and story editing by Mike Taylor. Data reporting by Karim Noorani. Copy editing by Tim Bruns. Photo selection by Ania Antecka.
This story originally appeared on ATS.io and was produced and distributed in partnership with Stacker Studio.